There's nothing like a few days to get a little R&R! Although, to be honest, this week was kind of insane for us - tons of family gatherings, baking up a storm, getting our tree, etc. So much so - that we ended up living the sloth life yesterday at home in our PJs all day. I'm always interested in how others spend their holidays, so I wanted to share with you how I spent mine!
I did a ton of online shopping.
Most of my list is complete, and I'm planning on knocking out the last few gifts tonight. If you missed my Cyber Monday deals post, check out the best sales right now here!
I stocked up on holiday cards.
More to come, but here's a sneak peek of the cards I snagged from my favorite card e-retailer, Julie Ann Art. (Snag 30% off her cards on Monday, Nov. 28 with code: ENJOY30)
I baked cookies.
Not the kind where you need to only add butter and an egg (for once!) My Nana used to make these incredible Italian Lemon Christmas Cookies and I labored and labored over them this year for our Thanksgiving celebrations. They were worth every ounce of sweat.
We spent Thanksgiving in the country.
Tofurkey Day (vegetarian jokes) was spent in the Shenandoah with the hubby's family. It's always a big celebration with aunts, uncles, cousins and friends joining us from around the country. I wore this super cozy Joie cardigan and perfectly-sized Clare Vivier tote from Rent the Runway. We ended the night with Cards Against Humanity with the whole family - which was interesting to say the least!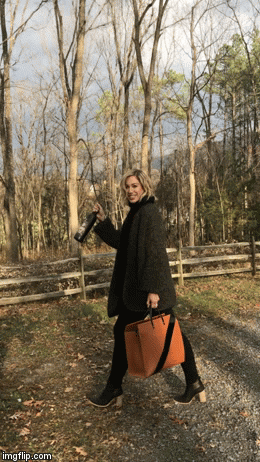 We got our tree!
Each year, we head to a Christmas Tree Farm and pick our own. It's become one of my favorite holiday traditions for us (plus makes an excellent opportunity for photos!) This year we went to Mountain View Farm in Woodstock, Virginia. The trees here are insanely cheap (ranging $35-$45, no limit on size) and great quality. The tree we got here is - by far - my FAVORITE we've ever gotten. Will be sharing more photos soon!
What did you do over Thanksgiving?! Also! Don't forget to enter to win $1,000 to Nordstrom below!
Now…it's time for a fabulous giveaway! I've teamed up with an amazing group of bloggers to give YOU a chance to win: a $1000 Nordstrom Gift Card, just in time for the holidays!
Simply enter below by completing the rafflecopter. You'll receive one entry per completion. This giveaway is open internationally and runs until 12/5. Winner will be announced here. Good Luck!
a Rafflecopter giveaway